Hospital surveys and patient feedback for the healthcare industry
Optimized to meet the fast-paced demands and unique needs of the healthcare industry, Survease helps you improve medical services drastically. We are GDPR compliant and strive to maintain the highest level of data security for your healthcare organization.
Increasing patient engagement will help you enhance the overall hospital experience. Monitor the quality of the health services offered, with the intelligent and relevant surveys of Survease.
Create your hospital surveys online or offline and collect information that is reliable with Survease!
Improve health care
with hospital feedback
Trigger an e mail survey
after consultation!

Collect patient feedback as soon as they finish their medical examination or any other service they went for. Measure patient satisfaction in the services provided right away.
Collect patient feedback
internet-free!

Maintain patient relationships, no matter how remotely located they are. With the offline survey app, conduct patient surveys, pharmaceutical surveys, and more, internet-free.
Guard patient data
with anonymous surveys!

Assure confidentiality to inspire the patients to be more honest. Use anonymous surveys to keep the patients at ease while collecting sensitive information.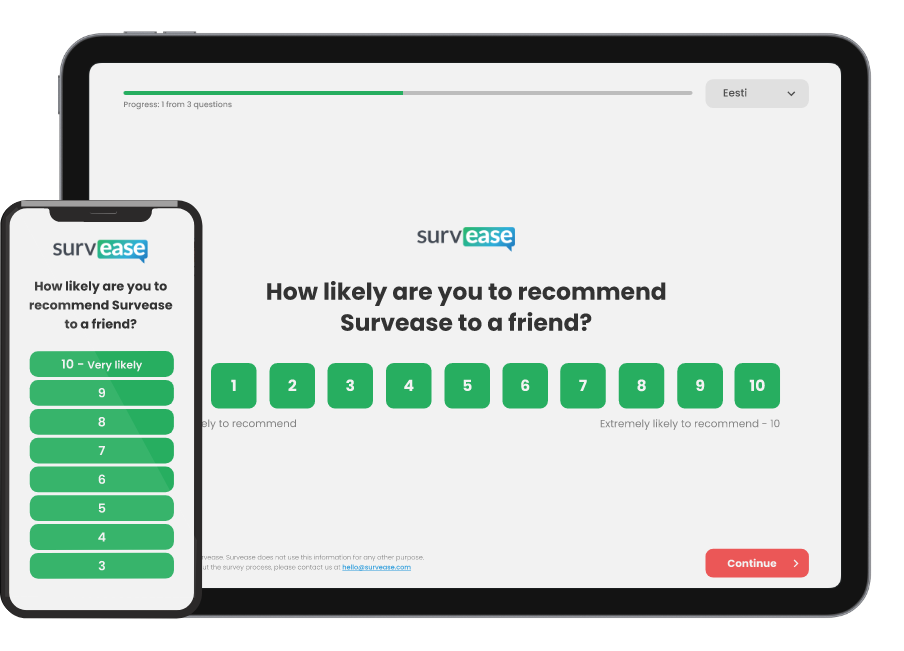 Gather quality patient feedback real-time
A smart solution for customer
and employee feedback
Gather insights into what your customers and employees
need so that you can evolve with them.
Try Survease 14 days for free.
No credit card required.